Marc W. Hungerford, MD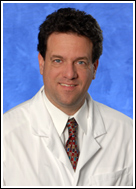 Marc W. Hungerford, M.D., Director of Joint Replacement and Reconstruction at Mercy, received his medical degree from Vanderbilt University School of Medicine, where he also completed his internship in General Surgery. He completed his residency in Orthopedic Surgery at Johns Hopkins University.
A Board Certified orthopedic surgeon, Dr. Hungerford has immense expertise in the anterior hip replacement approach. He also focuses on adult joint replacement and preservation including hip, knee, and shoulder arthroscopy; pelvic osteotomy; minimally invasive joint replacement; joint replacement revisions; and treatment of avascular necrosis.
Dr. Hungerford previously served as Chief of Johns Hopkins Orthopedics at Good Samaritan Hospital and was an Assistant Professor of Orthopedic Surgery at Johns Hopkins University.
Dr. Hungerford has spoken at national and international medical association meetings and has extensive research experience. An author of numerous publications, abstracts, and book chapters, he is currently an ad hoc reviewer for various medical journals. Dr. Hungerford is a member of the American Medical Association, American Association of Hip and Knee Surgeons, ARCO, National Osteonecrosis Foundation, Maryland Orthopedic Association, and Southern Orthopedic Association. Dr. Hungerford also was named by Baltimore Magazine a 2009 "Top Doctor" in the Orthopedic specialty.
EDUCATION AND TRAINING
| | | |
| --- | --- | --- |
| School/Program | Years | Degree |
| University of Rochester | 1982-1987 | B.S. |
| Vanderbilt University School of Medicine | 1988-1992 | M.D. |
| Internship, Vanderbilt Univ. School Of Medicine | 1992-1993 | - |
| Residency, Johns Hopkins Univ (Orthopaedic Surgery) | 1993-1997 | - |
| Foreign Surgeon, UKH Graz | 1997-1998 | - |
| Visiting Fellow, Staedische Kliniken Dortmund | 1998 | - |
LICENSURE/CERTIFICATION
State Licenses:
Certifications:
National Board Medical Examiners; July 1983; #267804
American Board of Orthopaedic Surgery; July 2000
To know more about Marc W. Hungerford click the following links.